Join the Ageless Woman 7-Day Beauty Transformation and get Dr. Nancy Lonsdorf as your personal health and beauty mentor for the next 7 days.
Your information is 100% secure and will never be shared with anyone.
In this FREE online training, you'll receive…
Dr. Nancy's The Ageless Woman 91 page eBook: Get personalized tips for radiant, healthy, youthful skin designed for your Ageless Skin Type, and learn new ways to balance your emotions, so critical to fresh, youthful–looking skin. These two chapters of The Ageless Woman, Dr. Lonsdorf's popular guide for women at midlife and beyond, will serve as an invaluable reference as you begin to implement these healthful, beauty-enhancing tips in your life.
75 minute Video on Detox for Health and Beauty: How to Detox Effectively for Your Type—You'll learn the best times of year to detox; how detox in the liver works; what herbs, spices and supplements are best based on your apparent detox genomics. Get personalized tips for detox for your type-- a unique and empowering program for reducing the effects of toxins on your skin, face, brain and all body health.
60 minute webinar "It's Not Just What You Eat, How You Digest is Key!": This lively and fascinating webinar highlights the gut as key to health and longevity (read "anti-aging,") and show you how to understand your own gut symptoms in terms of imbalance that can often be healed by shifts in diet and eating habits that promote good digestion. Learn your "Digestive Type" and (optionally) get a tip each week for 6 weeks to help you ramp up your digestive "fire" in an easy and doable way.
30 minute video "Healing Your Emotional Heart—How Do You 'Do' Stress?": You'll learn how to address stress and minimize the toll it takes on your health and beauty. You'll get specific tips for your type to address anxiety, anger/irritability and the blues through lifestyle, diet and supplements, as a complement to any conventional approach. These type-specific tips will help you gain greater command of your emotional balance, a well-known influence on our health and longevity, especially as we age (or become ageless over time, as the case may be!) Optional take the "Stress Type quiz" and get personalized anti-stress tip sent to you each week for 6 weeks to help you easily implement new health-, life- and beauty-saving tips.
Plus: You'll receive this special knowledge including more short video tips for anti-aging, each day for 7 days. I am confident that if you simply pick one tip and begin to do it each day (or as many days as week as possible,) you'll begin to see and feel rewarding results.
I've created this Free Program to make available to every woman this very profound, yet simple way to creating health and beauty, naturally, from within. I'm super excited to have you try the tips and start to feel better, and look your radiant best!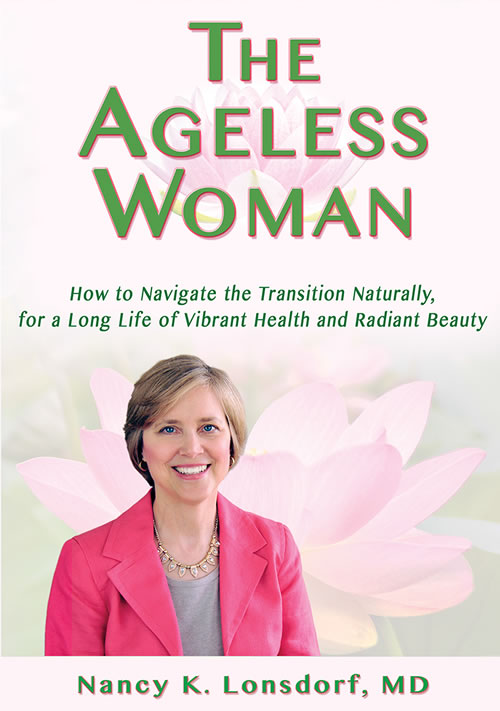 What People Say About Dr. Nancy's Talks and The Ageless Beauty Training and Tips:
I loved hearing the great daily reminders to point attention to where my life needs adjustment. The tips are cherished little secrets.
—Shellie
Just hearing Nancy speak was a healing experience for me. Her presence and peacefulness was transformative …. I have read and listened to Ayurvedic practitioners and doctors before, this time I understood. She has a way of making it clear, easy, embraceable.
—Connie Kemmerer Executive Director, Teton Wellness Festival, Jackson Hole, WY
Dr. Nancy is amazing! All of her tips are worthwhile and I will institute all of her advice. —Mary Qualls
(I started just one tip) and what a dramatic change in my energy level and luck!! I feel bright, and so happy I could feel my mouth spontaneously moving up into a smile. My students even commented to me that I looked pretty. My family is also having luck with reaching their goals as another side-effect! I'm enjoying my life so much more. Thank you Dr. Nancy for that tremendous tip.
—Diane Wetherhill
Dr. Lonsdorf's a fantastic speaker, and you can tell by the way she connects with her audience that she genuinely cares about and enjoys people. I've applied some of her tips and feel great benefits already!
—Judy
I particularly loved the way Dr. Nancy covered each and every topic in-depth! Just when I thought she was finished explaining a procedure, she would surprise me with even more information!
—Thelma
I loved your generosity and readiness to give freely so many great tips for healthy living…..this was an incredible gift. Thank you.
—Abaan Abu-Shumays